The way Marianne Theodorsen dresses could make a minimalist's eyes bleed. Her wild Instagram feed stands out even among other Skandinavian fashion influencers, who are known for combining seemingly incompatible colours and patterns – her eclectic style is an inspiration for the bold.
Marianne, 36, lives in Oslo, where she's currently raising her two year old son Till with her husband. It seems pretty wild that this 36 year old mother is a social media manager, DJ and a blogger. Her distinct tattoos, colourful hair and abundant amounts of jewellery make her an unmistakeable fashion icon that you definitely won't confuse with anybody else. She sports luxurious vintage handbags, gets her clothes from both progressive European designers and chain stores alike, but what we envy the most is her collection of sneakers, which she isn't afraid to match with, for example, a ruffled dress.
Are you brave enough to get inspired by Marianne?
Cover photo: Instagram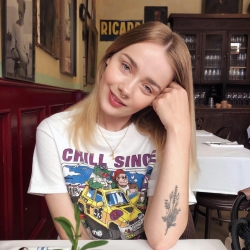 Latest posts by Lucie Kratochvílová
(see all)