Her inspiration comes primarily from the streets and night life of Copenhagen. Although she dresses in a quite minimalistic fashion, her unmistakeable style comes from being able to work with silhouettes, textures and having a sense of humour.
Despite her being only 22, she's already collaborated with brands like Vagabond, Paco Rabanne, Reebok and Calvin Klein, and was on the front page of the Japanese edition of Vogue (and more niche magazines, such as Numero and W) – her instagram account, followed by tens of thousands of people, also caught the attention of a modelling scout.
Today, she's a sought-after model, but she continues to fill her instagram with inspirational fits. The Danish media call her the "Queen of cool" – whom she quite obviously is. We admire the way she plays with proportions and combines men's and women's elements with designer pieces from high street brands.
Cover photo – Instagram @frejawewer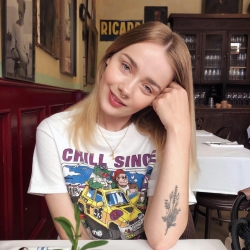 Latest posts by Lucie Kratochvílová