A couple weeks ago, we took part in one of the world's most important fashion events – Paris Fashion Week SS2020, where big brands and fashion enthusiasts alike show off their street outfits, current trends and new collections for the spring/summer 2020 season.
Aside from working on preorders and obtaining new brands for you, our awesome customers, we visited a couple of events and parties to stay up to date and spread our social media in other places, then the internet. In the pictures below, we'll share some of our impressions and experiences from these events with you.
The first day of our stay at Paris Fashion Week, we visited a beautiful venue designed to impress all the Waffleheads (a.k.a Vans lovers). It contained an exhibition of archive Vans sneakers, workshops, and talks with some of the world's most famous Waffleheads, such as Tim from the Patta team or the creator of the website and store Pillow Heat, which focuses mainly on vintage Vans (which, apart from other brands, maintain their structure for a long time without falling apart).
Our second and third stops were at the adidas and Asics parties, where we experienced the genuine parisian club atmosphere and had a couple drinks with some famous people. Asics pleasantly suprised us with the great spot where their event was held – the rooftops of buildings close to Notre Dame, and adidas closed up the evening with a proper party at Les Etoiles.
The second day we met some interesting people at the Asics showroom – for example the creator of the store Kith, Ronnie Fleg and Mr. Shigeyuki Mitsui, the original designer of the Asics Gel-Lyte 3 sneaker (you can compare him to someone like Tinker Hatfield). Unfortunately, we had to blur the pictures from the Asics showroom, because we can't publicly reveal what'll be going on six months from now. 🙂
In the following days we visited our friends at the Filling Pieces showroom, where they suprised us as per usual with a beautiful installation combining neon and nature, the adidas Consortium and Y-3 showroom, where our jaw almost dropped because of the sheer amount of things they had, Karha – a piece of Finnish heritage that warmed our hearts a bit (like always), KangaROOS, where you could feel the quality in the air and Converse, with their exhibition of archive OG sneakers. We left every one of these encounters very excited, but right now, we can't share <i> all </i> the information about what's in store for you, but you can count on being the first ones to find out!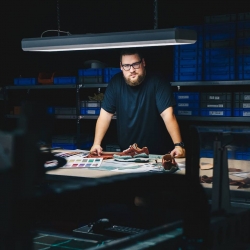 Latest posts by Peter "Kovkou" Kováč
(see all)