As much as Star Wars made a huge impact in the world of film and pop culture, it also left an unmistakable mark on the sneaker universe. On May 4, we're celebrating International Star Wars Day and marking the occasion with a look back at the best sneakers based on the mega-hit film brought to life by George Lucas and Steven Spielberg. Get comfy and discover the 10 best sneakers from the Star Wars universe. Once upon a time in a galaxy far, far away…

adidas Micropacer Star Wars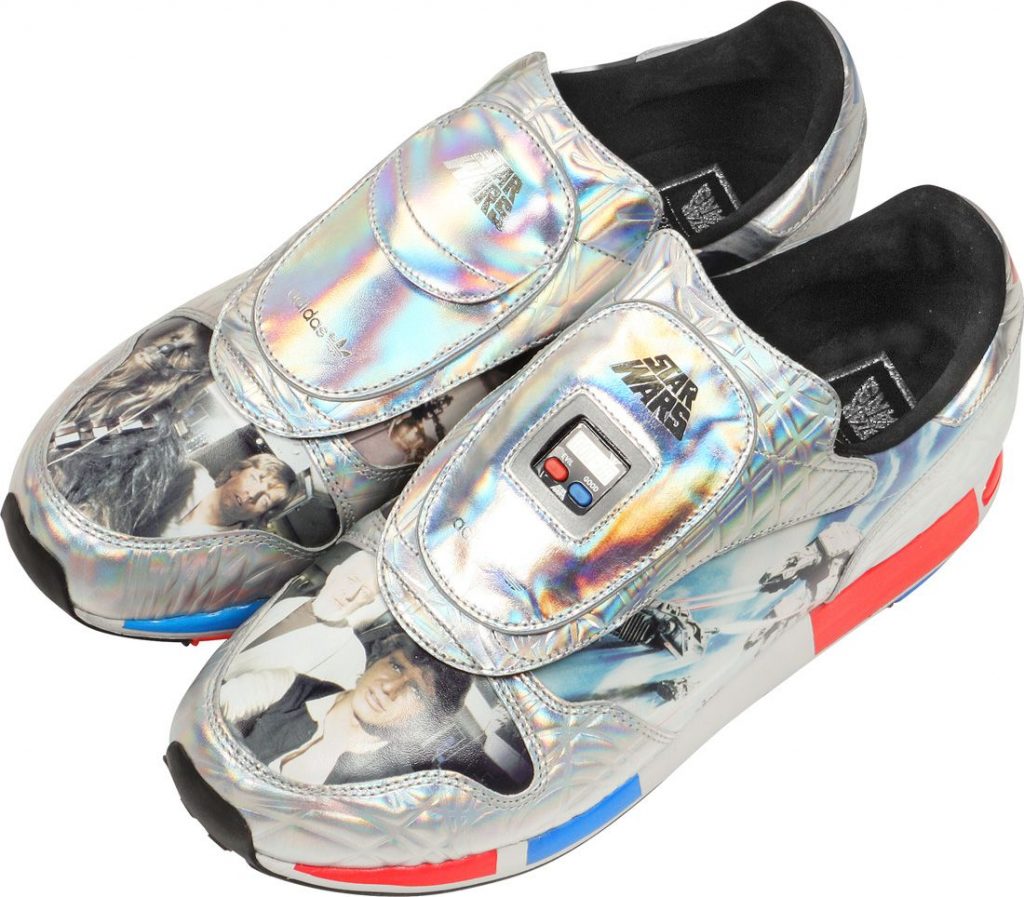 We're starting in style because I really couldn't deny you this spicy silhouette. While you won't be lacing up the adidas Micropacer due to the lack of laces, you definitely won't get lost in them in the darkest corners of the galaxy. The sneakers were released as part of the huge adidas x Star Wars pack in 2010 when the two brands began their long-running official collaboration, and these are not the only ones we'll be featuring from this legendary release. You can get them on the secondary market today for around €600. Weird flex, but ok.
adidas Top Ten Hi "Boba Fett"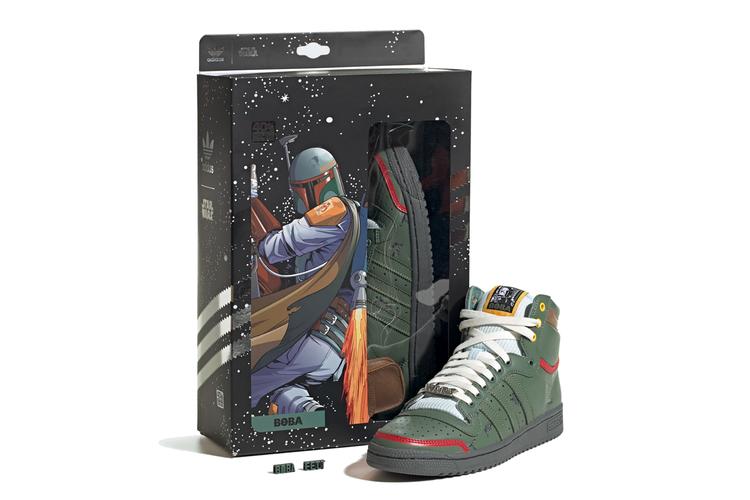 In response to the popular Star Wars universe franchise The Mandalorian, another collection featuring three stripes and Star Wars themes was released in 2020. One of these was a tribute to a bounty hunter named Boba Fett. The iconic olive green color references parts of his armor, from heel to toe. The sophistication of this model is also demonstrated by the special pouch on the ankle. When you open it, you can find collectible accessories and a message printed into the leather directly from Boba Fett: You can run, but you'll only die tired. So don't run too much in those.
Nike SB Dunk High "Tauntaun"
For the first and not the last time, we have Nike SB Dunks. Remember when Luke Skywalker rode a sympathetic monster through the inhospitable freezing environment of the planet Hoth in episode five? That was the Tauntaun. Since everyone wants to ride something like that, Nike decided to make those dreams come true. Furry upper in an aesthetic combination that perhaps works even more than it did back then – more than 10 years later, and instead of horns you've got the Swoosh. And although few will know it at first glance, this is one of the most successful Star Wars sneakers ever for me.
adidas Originals x Star Wars Eldorado High Hi Top "AT-AT Walker Stormtrooper Pilot"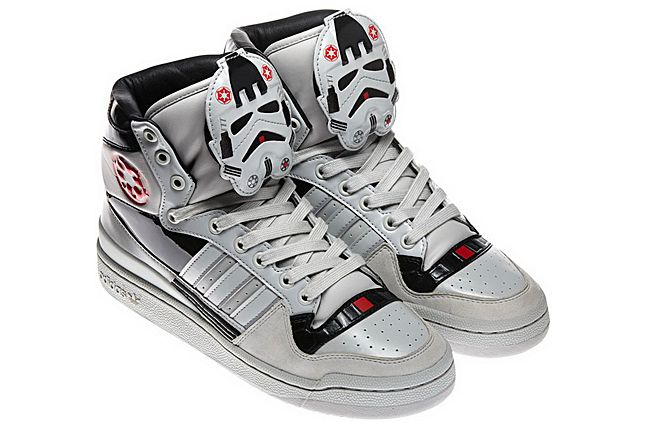 You can't say that high-top sneakers were experiencing a big boom in the early 20s. Perhaps that's a shame, because the High Hi Top Eldorado, which came out as a part of the previously mentioned adidas x Star Wars pack, are in many ways a gem. Wonder why? Go ahead, name a sneaker that can replicate the mighty Empire AT-AT weapon more than these. Nothing? There you go. ?
adidas Originals ZX 8000 Darth Vader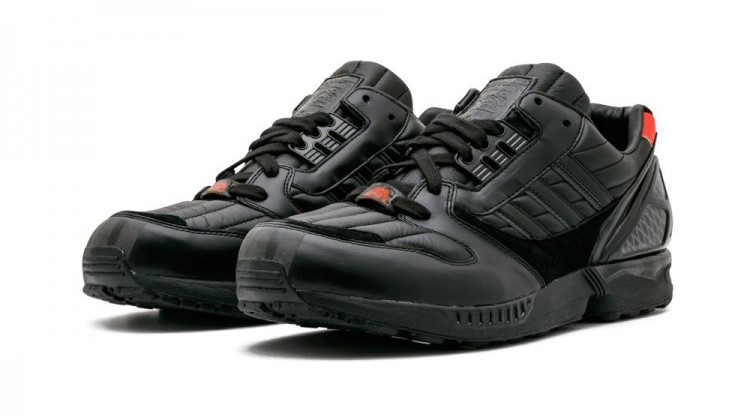 And here we have a representative of the more than 10 years old adidas x Star Wars pack for the third time. But this time in the darkest form ever. If "back in the day" Darth Vader had worn the adidas ZX8000 in his own colorway, he might have survived his fatal wound thanks to Torsion technology. If not at Vader, I can at least aim this recommendation at you – once you're trying to take over the galaxy, you'd better wear these.
adidas Alphaedge 4D Star Wars Death Star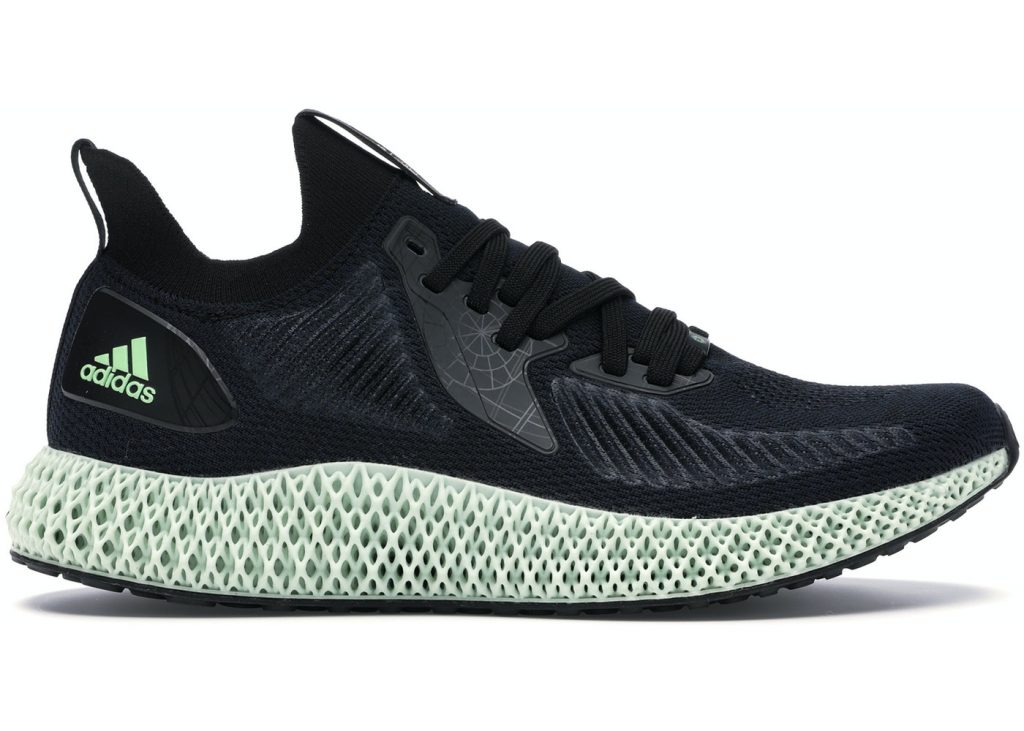 In many ways, Star Wars is a reflection of a possible future, and despite the retrospective view through which we now primarily view the "second" trilogy, it represents technological progress. So it's no surprise to see a silhouette of an Alphaedge 4D subtitled Death Star at the top of our list. After all, the 4D series sneakers meet all the parameters of the sneakers of the future. For example, their mesh midsole is created using a 3D printer based on data from years of research in collaboration with professional athletes. If you're interested in learning more about 4D technology, explore our microsite to find out more.
Nike Dunk High "Stormtrooper"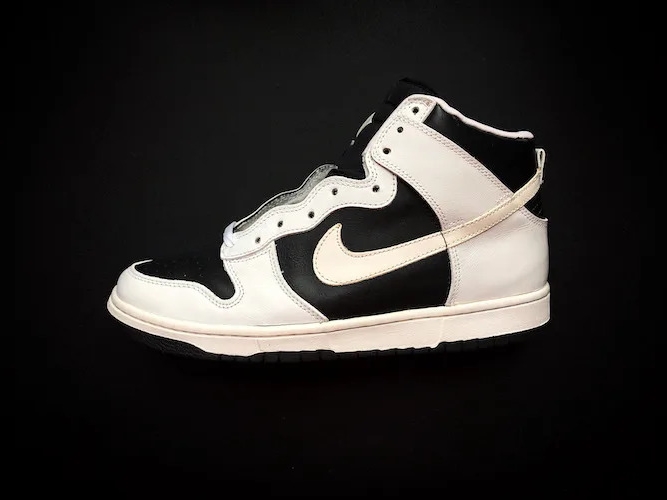 These sneakers aren't an officially licensed Star Wars collabo, but the power of community is undeniable. Sneakerheads all over the world were instantly aware of what this black-and-white colorway of high Dunks was reminding them of at the end of the millennium when it was released. And so the sneaker world was enriched in 1999 by the Stormtrooper, which definitely couldn't be missing from the list of Star Wars sneakers.
Nike SB Dunk Low Pro "Jedi"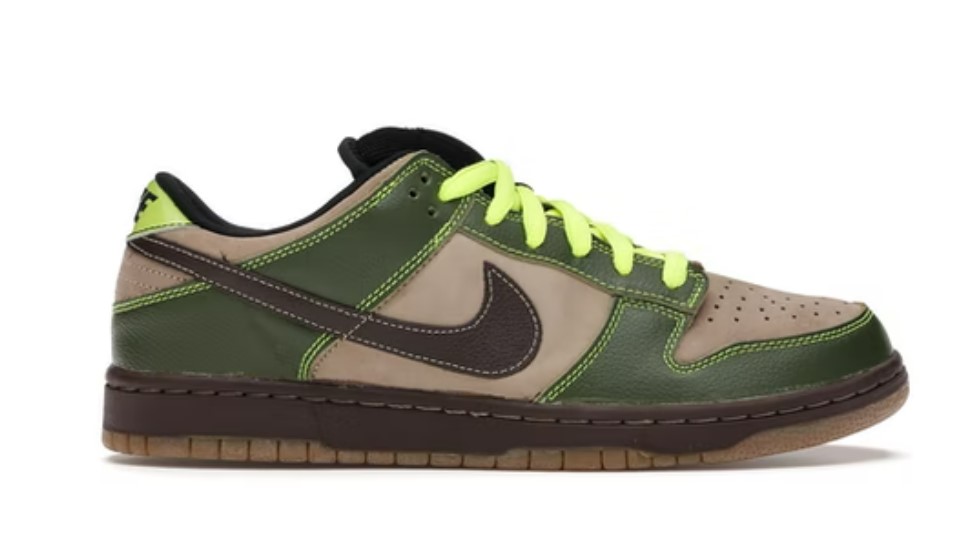 The year was 2004 and Nike released the holy grail for everyone who fights for the light side of the force. In the familiar shade combination of dark green and brown, which can also be described as nude (hello Master Yoda), and with neon laces as a reference to the color of the sword of one of the most revered members of the Jedi Council. Of the entire list, these may be the most expensive on the secondary market – around $1,500, and you can partially thank Travis Scott for showing up in them back in the day.
Star Wars x adidas Superstar "Dark Side Light Side"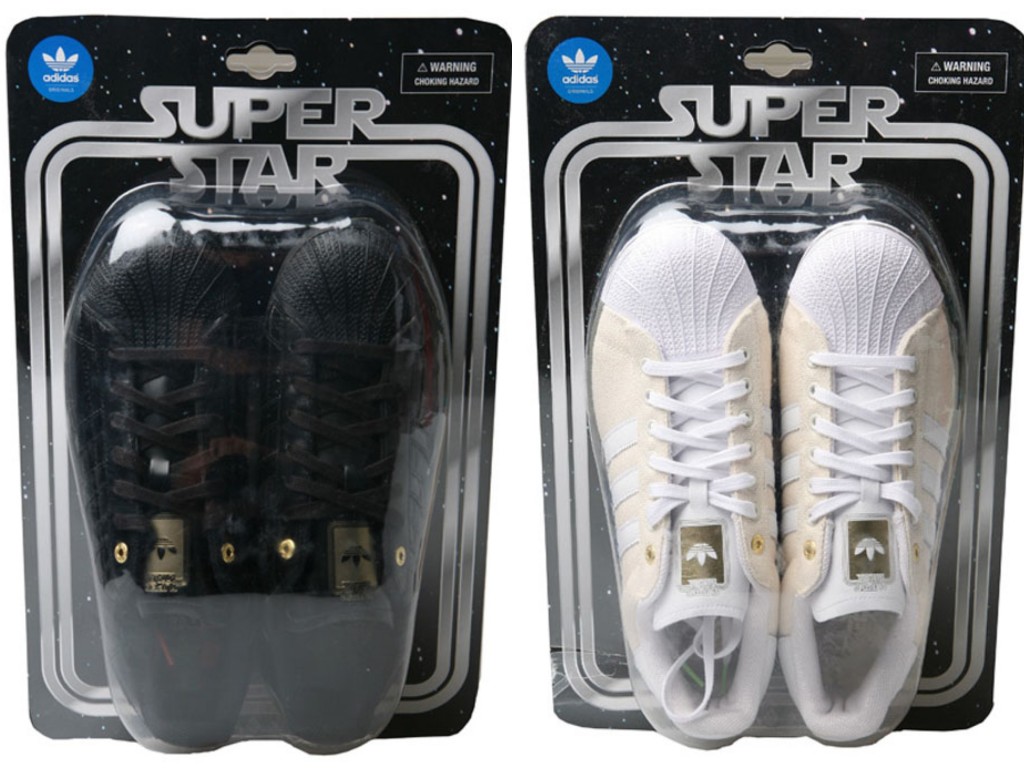 The adidas Superstar silhouette is an absolute classic, but this is a release you don't want to unwrap. I mean, quite honestly, these aren't that different from a lot of the regular Superstar colorways, but the packaging, which puts them in a toy store rather than a sneaker store, lifts the whole impression. Also, there was a choice between a Light Side and Dark Side variant in 2007, when this unofficial Star Wars collaboration came out. Imagine you're actually in the store then – whose call do you want to hear?
adidas Top Ten "C-3PO"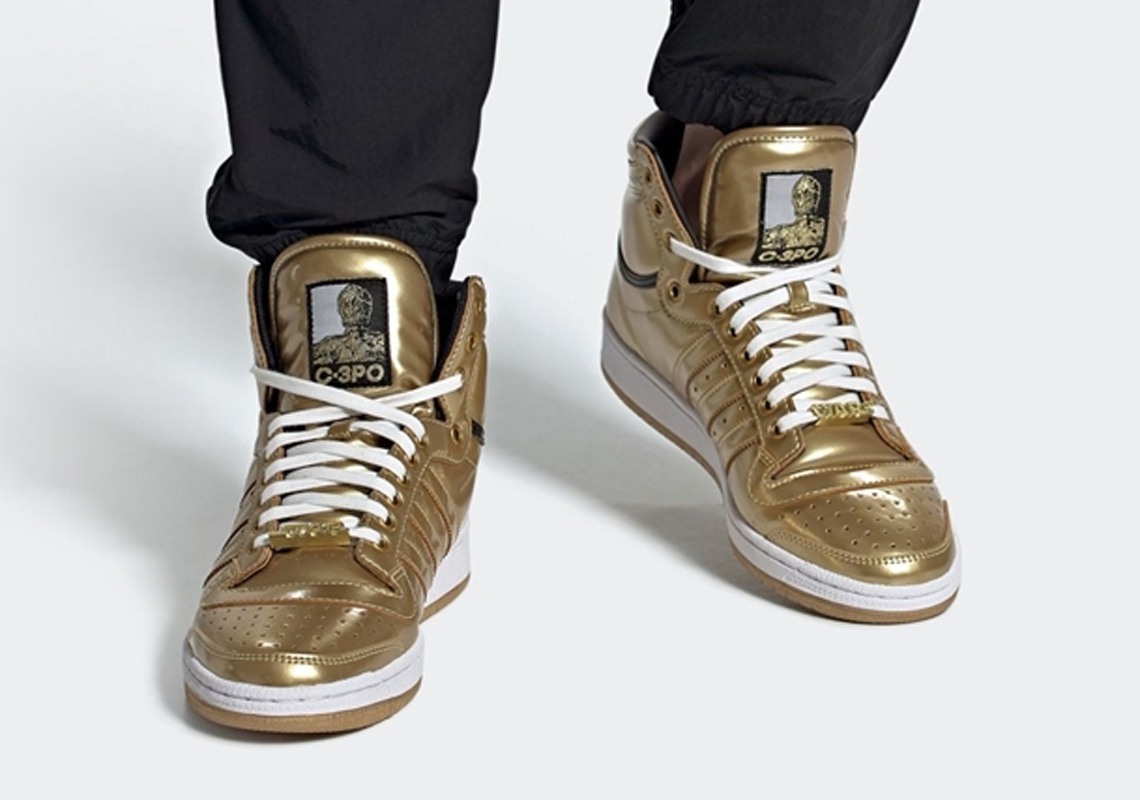 There were Luke Skywalker, Master Yoda, Darth Vader, Boba Fett, Han Solo, the Death Star, a stormtrooper, and even a tauntaun! It's not just for that reason that a golden icon in the form of a loyal servant named C-3PO (and now I regret the absence of R2-D2 on the list) came out as the shiniest Star Wars collabo ever in the 2020 Top Ten pack.
_
There were many to choose from, and I hope in a few years we can make another list of the best Star Wars sneaker collaborations that includes yet unreleased pieces. Well, only if this sequel doesn't end up like the last three episodes from a galaxy far, far away – but that's for another time.

None of the sneakers mentioned can be found online at Footshop right now, unfortunately. What we do have in stock, however, is the limited edition of LEGO building sets that are waiting for you behind the button below.
See how we celebrated Star Wars Day last year by taking inspiration from iconic LEGO characters in creating our outfits.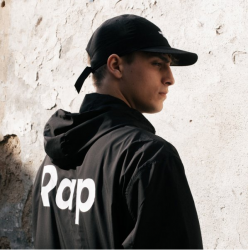 Latest posts by Honza Nosek
(see all)