2009, Nike SB, skating and Stefan Janoski. These four terms put together are what makes the Zoom Stefan Janoski silhouette, which is currently celebrating its 10 year anniversary, what it is.
To put you up to speed, Stefan Janoski is a professional skateboarder from Vacaville, known mostly for his switch-stance skills and smoth,laid-back style, which is reflected in this iconic Nike silhouette. And because it's celebrating its 10th anniversary, here's 10 things you should know about the Zooms.
1. Since the beginning, Stefan gave the designer (James Arizumi) strict instructions on how the shoe should look.
2. The original sock liner was made out of cork. This is a personal nod to the family vineyard in Vacaville, California.
3. Currently, there are 11 Janoski silhouettes – the Zoom Janoski, Janoski Max, Janoski Max 2, AC (Velcro), Lunar, Hyperfeel, Mid, Slip, Premium, Elite and Warmth.
4. Basically every type of material has been used to make the upper. Leather, canvas, mesh, suede et cetera.
5. In the last 10 years, Nike SB released more then 1530 versions of Stefan Janoski shoes. The products are divided by age categories, gender, materials used, models and the different teams that worked on them over the years.
via Nike

via Nike
6. The Zoom Stefan Janoskis were made available on NikeID (now Nike By You) in 2012. Customization has always been a central part of Janoski's style. Them being made available on NikeID allowed for yet more materials, colors and types of lacing to be used.
7. Five Janoski shoes were made for the Nike x Doernbecher Freestyle program. The newest model is from 2017.
8. In 2014, Nike included the Zoom Stefan Janoski's into their Be True pride collection. The upper features a rainbow motif accompanied by a "Be True" signature by Janoski.
9. The first time the Zoom Stefan Janoski's appeared in a Nike SB video was in December 2011. The video was titled "The SB Chronicles, Vol.1". It was the first in a series of three movies starring 8 SB skaters. It was shot all over the US and also in Dubai, Amsterdam and Hong Kong.
10. "10 Years of Janoski" celebrates a decade of the cult silhouette. Numerous Janoski shoes are going to released, including several remastered versions of the current models – for example, the Nike SB Zoom Stefan Janoski RM. According to James Arizumi, we can also expect other updates, such as a lighter and more flexible outsole, or lower and smoother toe boxes.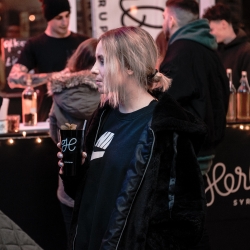 Latest posts by Tereza Jednička
(see all)