Someone like Travis Scott doesn't need any kind of introduction. For the last couple of years he's held the top spot in rap music, which shows if you look at his contracts with brands like Nike. The times when Nike wanted to do signature models exclusively with athletes are long gone, and Travis is one of the people that confirms that "rappers are the new athletes". Apart from a ton of Air Jordan IV's and AF1's ('Uptowns'), Travis has collaborated on a lot of other sneakers, and today we'll take a look at some of the less known models that you might have missed.
5. Air Jordan 33
In the past couple of years, the sales strategies of certain brands have evolved significantly. Collaborating with a celebrity to create a model and then sell that model for an indefinite amount of time? That doesn't cut it in today's day and age – in my opinion, people these days tend to get influenced by the 'hype' surrounding a sneaker a bit too much.
Brands often collaborate with a celebrity and finance a massive campaign for the final product, and don't get the costs back even after that product gets sold out. I know it sounds a bit illogical, but this is where the word 'hype' comes in. The public, which doesn't know that much about all these 'hyped up' collections, sees that the thing they wanted is sold out, and automatically looks for something that at least partly resembles it.
This worked out exceptionally well for Puma and their collaborative collection with Rihanna – Fenty. The Fenty Creepers always sold out immediately thanks to their massive campaign, so people had to get the alternative – the cheaper, almost identical version, that wasn't made in collaboration with Rihanna, and therefore wasn't limited by any sort of contract with her. Which means that Puma could sell as many shoes as they wanted.
Nike and Jordan have a slightly different approach. Travis got more models he could work with –  AF1's, but also silhouettes like the Air Jordan IV's or the Air Jordan 33's, which kind of flew under the radar. I think the people at Jordan relied a bit too much on the idea that when the 'hyped up' sneaker sell out, this relatively unknown silhouette will be the next in line. That didn't happen, and basketball players (who this silhouette was meant for) didn't really accept the shoe. And that's why I gave it the last place in this list.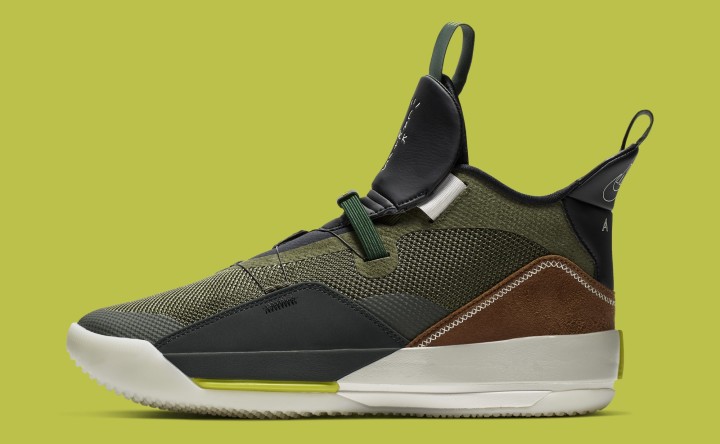 4. Travis Scott x Helmut Lang
Before his collaboration with Jordan, Travis linked up with designer Helmut Lang and put together a collection consisting of clothes and sneakers. The sneakers, which were hand-made in Italy, had a price tag of almost 400$ for the low tops and 600$ for the high tops. If you take Scott's style into consideration, you can see at first glance that he completely identifies with the whole collection. I think Travis's debut isn't bad, however, later on the collection got discounted and the sneakers themselves weren't anything groundbreaking.zdroj: NiceKicks
source: NiceKicks

source: NiceKicks
3. Travis Scott Air Jordan 4 "Friends & Family"
Travis enjoys teasing the public with sneakers that he'll either never release or release in a long time, maybe. Among those unreleased sneakers are the Air Jordan 4 "Purple" and "Olive", which were so far seen only on Travis or his friends/family. Both versions sport the iconic Cactus Jack logo and earthy color tones, with the exception of the purple upper. For me, the purple 4's are his best collaborative sneaker effort, but that's a very subjective opinion. Plus, who knows what I'd say if a couple million pairs appeared in stores next Saturday.
source: Complex

source: Complex

sorce: NiceKicks

source: NiceKicks
2. Travis Scott x Jordan Trunner LX
The Jordan Trunner LX is another sneaker that you could spot on Travis's feet but not in stores. This model never got a public release, so you could only see Travis wearing them a couple of times during Kendrick Lamar's tour. I have to admit that Travis exceeded my expectations and pleasantly surprised me with the Trunner silhouette. Travis himself said that he wanted to do something completely new and original with this silhouette, and he did. This pair marked the beginning of Scott's official relationship with Nike and Jordan, and there are no signs of it stopping any time soon.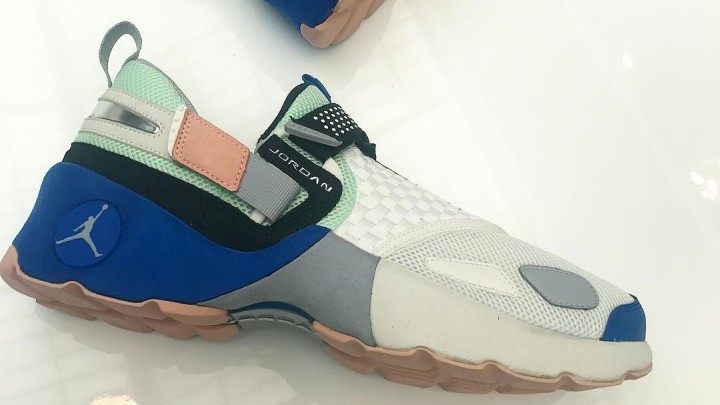 1. Travis Scott x Air Jordan 6
Another pair that hasn't hit the stores yet are the 6's, which also happen to be the favorite model of Michael Jordan himself. This just underlines Travis's knowledge and love of the Jordan brand. The color combination is uncannily similar to the legendary Air Jordan 4 x Undefeated release and the side pocket confirms that Scott's team took their time and played around with the design of the sneaker. Travis first showed them to the world during his performance at the 53rd Super Bowl and, according to an unofficial source, we could expect a release this autumn.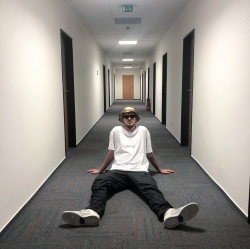 Latest posts by Adam Báča
(see all)