Some people have Wife Swap, some people have Masterchef, I have TikTok. An app, also called a 'social network', where people from all around the world record up to 60 second long videos. These videos sometimes make sense and sometimes they don't. TikTok's my guilty pleasure, as I'm able to spend 6 hours a day just scrolling through videos, without even making one of my own. Allow me to take you to this corner of the internet, formerly known as Musical.ly.
What is TikTok?
Thanks to Czech TikTok personalities such as Adam Kajumi or Mína, you most probably already know about it. It's an app that allows you to record 3-60 seconds long videos that usually have a musical background.

Since anyone can register, you can find basically anything on TikTok. From twelve year old girls that think they're the next Charli D'Amelio (more on her later) to 40 year old moms going through a midlife crisis. Cute animals like racoons and opossums in trash cans, makeup artists, people who are actually interesting, dancers, TikTok dancers and, last but not least, Indians.

The goal of every TikToker is to get on the For You page. This is the page that you can scroll through for an infinite amount of time. Once a TikToker gets on the For You page, he has a chance to get a lots of likes and maybe even enough clout to become the next Charli D'Amelio (don't worry, I'll get to her, I promise). To get onto the For You page, a TikToker has to do several things: be active, record trending videos or do something that'll really grab your attention.
Hype House
If you compare the Czech mutation of TikTok with the American one, you're bound to discover the gigantic differences they both have. From the content to the presentation. Hype House is the living proof of this. Hype House was created last December and is located in Los Angeles. This huge mansion is inhabited by the 19 most trending US TikTokers, who, for the most part, aren't even 18 yet.

Members include Chase Hudson, one of the founders of Hype House along with youtuber Thomas Petrou, Addison Rae, Alex Warren or the aforementioned Charli D'Amelio, who also happens to be the youngest member. 

Charli's from Connecticut and is a Taurus. Her horoscope probably didn't say that at 15 years of age she'll have over 41 million followers and 2,5 billion likes. Or that she'll dance alongside Jennifer Lopez at the Superbowl, be a guest at Jimmy Fallon's show or become Dunkin' Donuts' brand ambassador. All this after just a year of TikTok dancing from her room and a viral video.
TikTok of India
It's common knowledge that Indians sometimes do weird stuff on the internet, be it Facebook, Instagram or TikTok. Which isn't necessarily a bad thing.
It's all about makeup
As I mentioned, makeup plays an important role on TikTok. You can be a British girl with "traditional" British makeup (which is widely made fun of on TikTok), or a makeup artist that squeezed her 20-minute youtube videos into 30 second on TikTok.
Footshop's place on TikTok
TikTok's platform isn't used only by individual people, lots of brands have found an audience there, and Footshop is no exception. Check out our channel, which is moderated by Tomáš Pat'ava and Lija, for the newest trends from sneaker culture. 

Also be sure to check out Giancarla Purche's channel, which has a steady supply of hype material, from sneakers to Travis Scott's merch.

If you thought about a career on TikTok, now's the right time. Maybe you can come up with a dance choreography that Doja Cat will use in her latest music video, or you can just promote  men's shaving equipment. Either way, be sure to learn the Renegade dance. Otherwise you're lost. If you haven't downloaded TikTok yet, keep in mind that you never know what you might find there.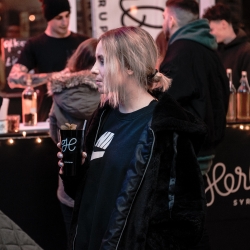 Latest posts by Tereza Jednička
(see all)