Since the quarantine started, the distinction between weekdays and the weekend has completely disappeared. RIP to Friday nights in clubs, going out for a beer with your friends and hangovers. Every day is so similar to the next that it doesn't matter at all what day you decide to have a party. Grab a couple beers, start up your computer and have an online party – with anyone you like and from the comfort of your home.

Connect
Monday 19:00. Where do you even host an online party? The most comfortable solution is probably Google Hangouts. It's free, has unlimited space and also has practical features such as a whiteboard. Other programs worth mentioning are for example Zoom.us or Remo.co, which also offers a virtual office.

Find a playlist
A good playlist is very important for your home office party. And making a custom specialized one with your friends is very easy. Also, you can check out some of my tips.
Added value
Not everyone is a fan of drinking alcohol. You can liven up your online party with activities like this:
Brunch don't forget the mimosas and the pancakes
Cooking you can have a wild sushi party or a competition who'll cook the best food
Costume party I know it's not Halloween, but why not?
A drawing competition
"Never have I ever…"the iconic teen drinking game can be held online without any technical difficulties whatsoever.
If you're not in a party mood at the moment, check out some of our previous tips and enjoy your Monday with some different activities.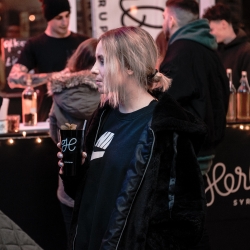 Latest posts by Tereza Jednička
(see all)