Kanye's collaboration with adidas began in 2015. In the following years, it became a great example of a working relationship between a brand and a famous personality – just this year, sales of adidas Yeezy's are approximately 1.5 billion dollars. But before Kanye worked with adidas, he collaborated with numerous other brands and came up with quite a few sneakers. Let's take a closer look at them.

Adidas Rod Laver (2005)
After the release of his debut album in 2005, Kanye set up a meeting with adidas. During the several other meetings that followed, he tried to convince the board of directors to give him his own clothing line, shoes and stores. At that time, something like this didn't really make sense for adidas, but the two stayed on good terms, with adidas sending him samples of sneakers. Among them are several samples of the Rod Laver model, which were inspired by the cover of Ye's album, "College Dropout" and featured the "Dropout Bear", Kanye's symbol.

Nike Air Max 180 (2005)
Kanye's second pair were the 1991 Air Max 180's. This collaboration appeared after the release of his album "Late Registration". The Air Max 180's also featured the Dropout Bear. Unfortunately, the pair never reached stores and there's only a couple of samples left in the world.

A Bathing Ape Bapesta "Dropout Bear" (2007)
BAPE was one of the first brands to give Kanye some creative space for his ideas. They even put him in their lookbook on several occasions. In 2007, Kanye got the chance to design his own color combination on the Bapesta silhouette – this is Ye's first shoe design that was released to the public. It was released on the 2nd of January 2007 with a retail price of $212 – today, their price is about 70 000 CZK.

Nike Air Huarache 08 (2008)
The color selection is inspired by the "Graduation" album cover, which was designed by Japanese artist Takashi Murakami. Similar to Ye's and Nike's previous collaboration on the Air Max 180's, the Air Huaraches never reached stores either. A good thing for Kanye was that this model was already a part of his contract with Nike, so there was a good possibility of a pair being released publicly in the future.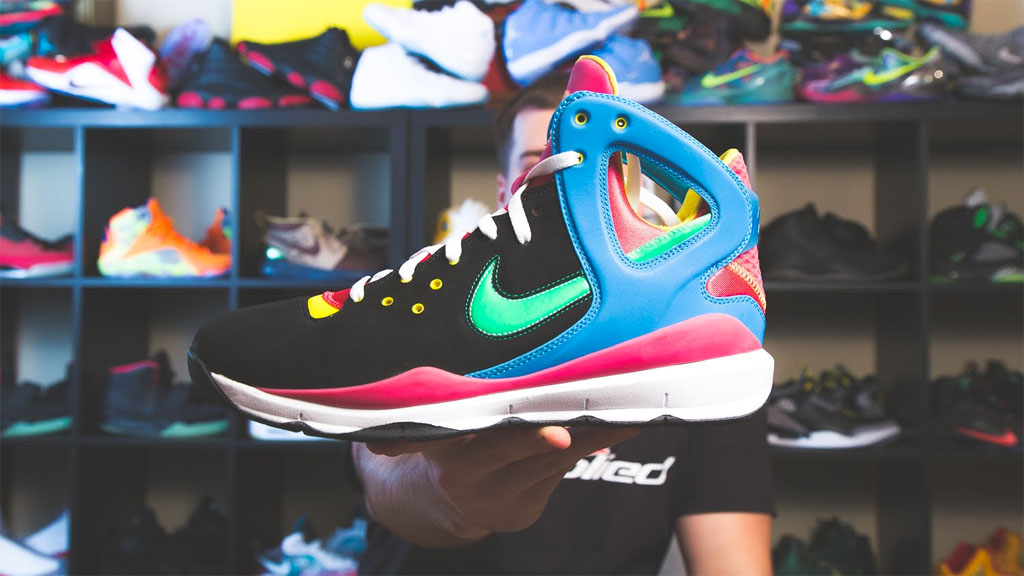 Air Jordan 6 "Donda" (2008)
The next sample was a pair of Air Jordan 6's. In 2008, Kanye's mother passed away, and, as the name of the colorway suggests, this pair is something like a tribute to her.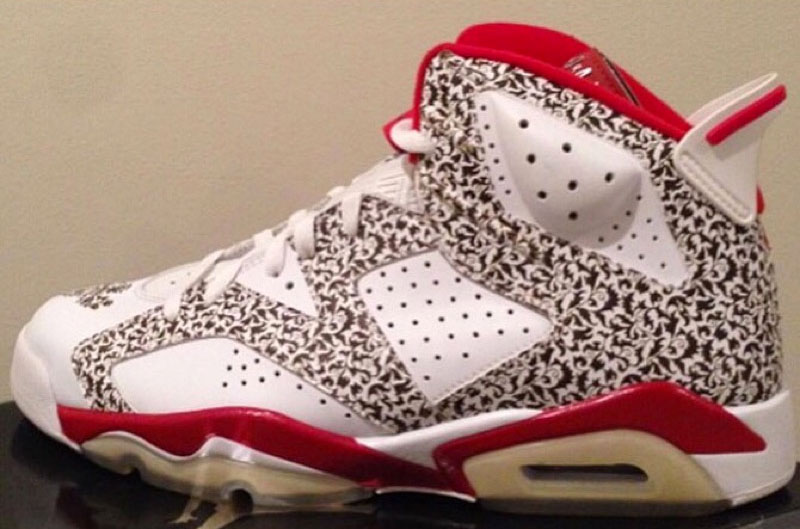 Reebok C. Carter Classic Low (2008)
Before signing his contract with Nike, Ye had just enough time to work on 4 color combinations of Reebok's C. Caster model. These weren't publicly released either, with only 50 pairs of each color combination being made.

via FightClub

via FightClub

via FightClub
Nike Air Yeezy 1 (2009)
In 2009, Kanye's patience was finally rewarded with the release of his own model – the Nike Air Yeezy 1, which was co-designed by Nike's creative director Mark Smith. A lot of samples were made before the actual release. In the end, three colorways of the first Yeezy's were made, and they were released in the Czech Republic too, with the retail price being $215.

Louis Vuitton (2009)
In the time period when Ye worked with Nike, he also collaborated with Louis Vuitton. At the time, LV's creative director was Marc Jacobs, who realised how big streetwear would be in the future – which is why he gave some creative space not only to Kanye, but also Pharrell Williams and Nigo (this same trio designed the Millionaire sunglasses for Louis Vuitton back in 2006). As far as sneakers go, Kanye designed 3 pairs in total, each named after one of his close friends – the Louis Vuitton Jasper after his personal barber Ibn Jasper, the Louis Vuitton Don after Don-C (Kanye's manager at the time) and the Louis Vuitton Mr. Hudson, after Mr. Hudson, who worked on music with Kanye at the time. The collection was released on the 1st of July 2009, and also appeared in LV's Prague store in Pařížská. The retail prices were as follows: Louis Vuitton Jasper $1140, Louis Vuitton Don $870, Louis Vouitton Mr. Hudson $840.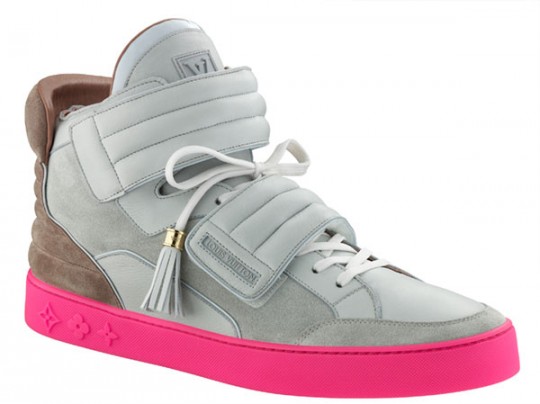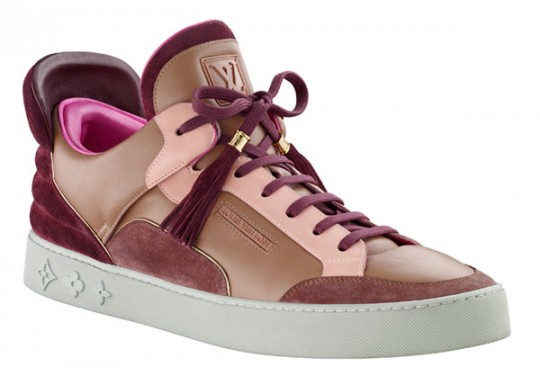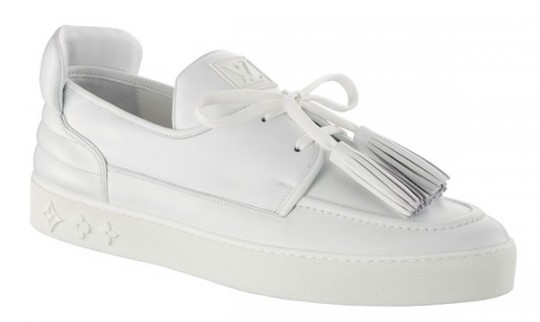 Nike Air Yeezy 2 (2012-2014)
The second Nike x Kanye model appeared in 2010. Nathan Van Hook also worked on this shoe, and along with Kanye, they created one of the most-hyped-up Nike models ever. They first came out in 2012 in 2 color combinations.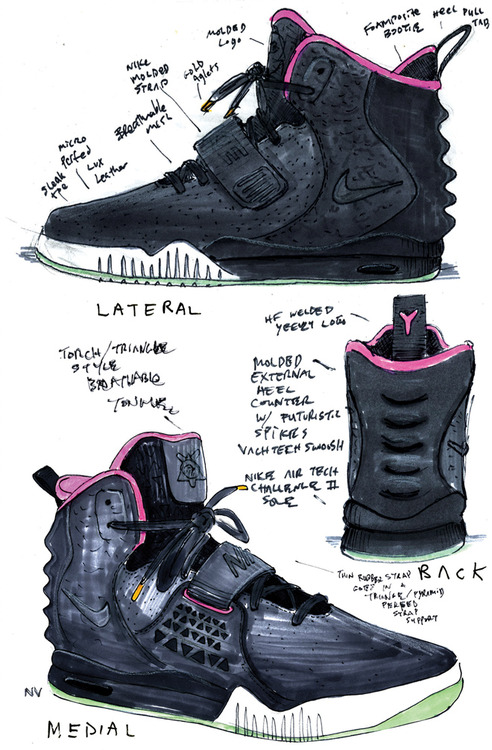 The third, all-red colorway first appeared in 2013, around the release of the album Yeezus. In interviews that followed the album release, Kanye critised Nike for not getting enough space for his ideas, and not getting royalties. He also said that he himself doesn't know when the "Red Octobers" are supposed to be released. Several months later, he confirmed that he and Nike would be parting ways, and that he would start working with adidas, who gave him more creative freedom and royalties. It almost looked that the release of the Red Octobers would be pushed back indefinitely, but in February 2014, Nike unexpectedly sent out a tweet announcing that they were available online – they were sold out in minutes. Their retail price was $245.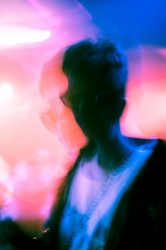 Latest posts by Adam Šeda
(see all)