We're thrilled to announce a monumental leap forward for Footshop with the launch of our brand new app – a true game-changer that's set to redefine your shopping experience and keep you at the forefront of style trends. This app isn't just a step forward; it's a giant leap into the future of fashion and sneaker shopping.
Stay Ahead of the Curve with Influencer Inspiration
Get ready to dive headfirst into a world of inspiration, guided by your favorite influencers. Our app's ingenious "inspirations slide" feature ensures you're always in sync with the latest style trends. Say goodbye to sifting through endless feeds; stay effortlessly up-to-date with the hottest looks and make them your own.
Unlock the World of Exclusivity
Missing out on those limited sneaker drops will now be a thing of the past. With our exclusive limited product section, you'll never miss a beat – or a raffle – for your dream kicks. Say hello to a new era of staying connected with the most coveted products in the sneaker world.
Savings Galore with Exclusive Discounts
Imagine never missing out on an opportunity to upgrade your style and save some hard-earned cash simultaneously. The app's customized notifications ensure you're always in the loop when it comes to the hottest deals. From jaw-dropping discounts to irresistible bundle offers, you're poised to be ahead of the pack in scoring the best bargains.
An Unbeatable Welcome Gift 🎉
As our heartfelt gratitude for being among our first app users, we're rolling out the red carpet for you. Enjoy an incredible 20% extra off on all adidas items – a dazzling thank-you gift that will surely elevate your shopping spree. Use the code APP20 and enjoy your well deserved savings!
Your Next Move: Download the Footshop App Now!
Don't be left behind in the style revolution. It's time to take action. Download the Footshop app today and join us as we embark on this exciting journey together. Elevate your sneaker game, stay in sync with influencers, bag exclusive deals, and enjoy unprecedented savings – all in one place.
Your style evolution starts here. Let's step into the future, one sneaker at a time. 🚀👟
Download the App Now and experience fashion like never before!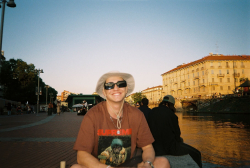 Latest posts by Mojmír Prokop
(see all)