If we disregard the fact that some sneakers are a piece of art themselves, over the years, they served as an inspiration to a lot of artists. The fusion of sneakers and art continues, this time in Bucharest, at the Sneakers Art exhibition – courtesy of Sole & Shape.
The exhibiton took place in the capital city of Romania from June 21st to the 6th of July, and focused on the connection of the sometimes fanatical world of sneaker culture and the digital era. The result is a series of posters created by local and global artists who changed the way we look at sneakers.
Footshop took part of the exhibion not only as an official partner, the opening at the SOTO Café was also visited by the management team, headed by Petr Hajduček, the CEO of Footshop.
To get a better idea of the exhibition, here are some photos from Alexandru Barboia for Sole&Shape.
Van Orton Design, IT, vanortondesign.com
Steven Piantoni aka SneakerToons, UK, instagr.am/piantoni7
Marcos Cabrera, ES, marcoslatragedia.com / latragedia.net
Furaigone, UK, instagram.com/furaigone
Fanny Papay, HU, fannypapay.com / instagr.am/papayfanny
Kody Mason, AU, kodymasonn.com
Constantino Porcu, IT, instagr.am/coss_illustrations
Susha Sheeleena, UK, instagr.am/susha_she
Bert Musketon, BE, musketon.com
Vlad Sorescu, RO, instagr.am/vlad_sorescu
Rosaline Thomas aka AnuvaTwo, UK, instagr.am/anuvatwo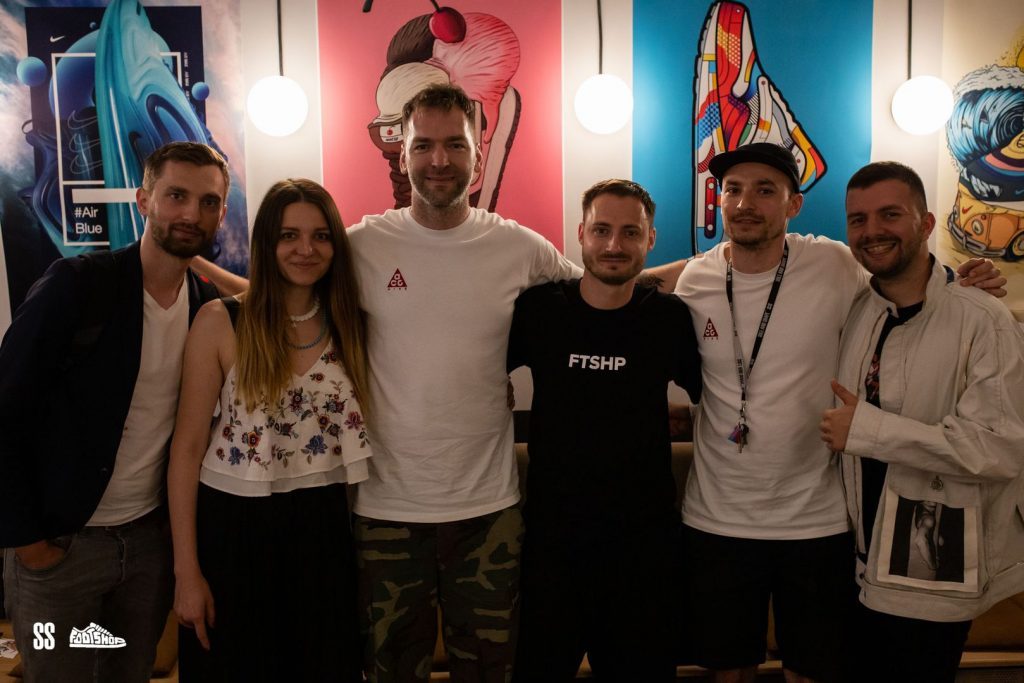 Peter Topor, Danka Brotea, Lukáš Burda, Márty, Denis Green (Sole & Shape), Peter Hajduček