KishKash is a well-known sneakerhead, sneaker archivist, and cultural curator. He tries to interface with all aspects of culture, including sneakers, music, art, fashion, food, basically everything we experience within our lives. He has got a few thousand pairs of sneakers, a few thousand records. He had hosted a radio show for many years playing hip hop.
To refresh our readers, if you could tell them who you are and what you do…
What do I do? I never know the answer! My name's KishKash; I'm over here in London, I'm a cultural curator – I try to interface with all aspects of culture on a sort of connoisseur level, I hope. That includes sneakers, obviously, but also music, art, fashion, food, just basically everything that we experience within our lives. I just try to do the best I can with it and just be, you know, archiving stuff.
I'm a sneaker archivist, so basically, I've got a few thousand pairs of sneakers, and I've got a few thousand records, and I've got apparel and all that kind of thing, so…that's me! Oh, and I host a radio show! I've hosted a radio show for many years, playing all the latest upfront hip hop that comes out.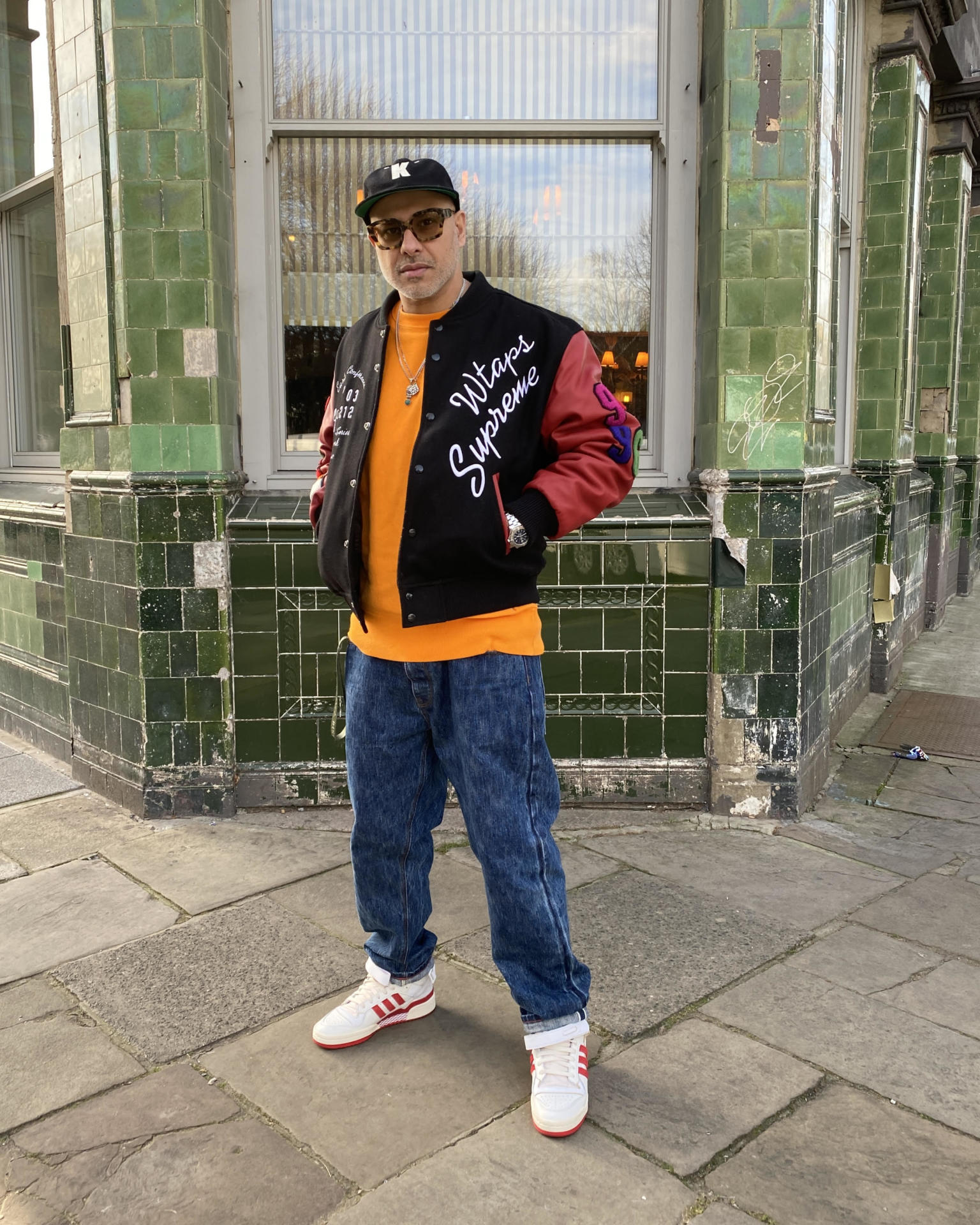 That's cool! I'd like to go a little deeper into the story behind you like a sneaker collector. Could you tell me how it all started?
Sneaker archivist! So – there's a difference, right? A collector just likes to collect, and it might be the new hype release or whatever, me though, I'm about preserving history. My whole thing is that I want to eventually set up a museum, not just with my own stuff but dedicated to contemporary culture. We have all these museums around the world that just have antiquities, stuff from the past. That's great, but who's saving what's going on now for the future? You see?! So that's the important thing, so that's what I'm doing.
So how did it all start? How did you get that idea, and how did you get to this point…
Basically, my love of sneakers, appreciation of sneakers stems from a love of football and hip hop. So those two are what sort of channels my passion for this.
To my knowledge, football casuals on the terraces have always been very dapper dressers; in fact, the football casual movement was the first sort of collective that was into sneakers the way that we're into sneakers now. So that's a key consideration. And obviously, through the emergence of hip hop, everyone was breaking and spraying graffiti and stuff like that. They were wearing sneakers on the street, because in New York, basketball was and still is the street sport. Back then, you'd use your footwear for everything.
You didn't get multiple pairs of anything; you were lucky to have one pair that lasted you six months. You wanted to keep as fresh as possible, so yeah, it all stems from that really. Like with everything in my life, it's been formulated by sports and music. Channels through me to this day.
So the first pair in your archive was connected more to sports or street culture?
So, back when I was really young, you wore shoes to school, no one wore sneakers to school, and I remember going on holiday and seeing my auntie in America, she was wearing sneakers. And I was like, I want a pair of those. I didn't know what the brand was or anything like that. I was just like, "Yeah, I've got to get a pair of those."
My first pair of sneakers, I think they might have been a pair of KangaROOS actually, and then my second pair was a pair of Nike's. And then my third was a pair of Pumas, and then it sort of spread from there. Those shoes I don't have cause I was super tiny back then, but maybe my mum did keep them. My mum never throws anything away. Maybe one day I'll just suddenly find them there, that'd be quite funny.
You'd be able to put them in the museum as well!
Exactly! So that's kind of how it all started. Then I'd go on holiday to America, and I'd see stuff that you couldn't get back here, so I'd be bringing it back and wearing it, and everyone was starting to go, "Oh yeah, that's cool." It was pretty good to have relatives over in the States and in Canada because every time I went there, the first thing I'd want to do was go over to the sneaker store or the mall. So that's how it all happened and how I met a few of my friends as well. I'd be wearing exclusive shoes, and they'd be like, "Those are amazing," and they'd want to be my friend just cause I got shoes. And they're still my friends to this day, which is kind of cool.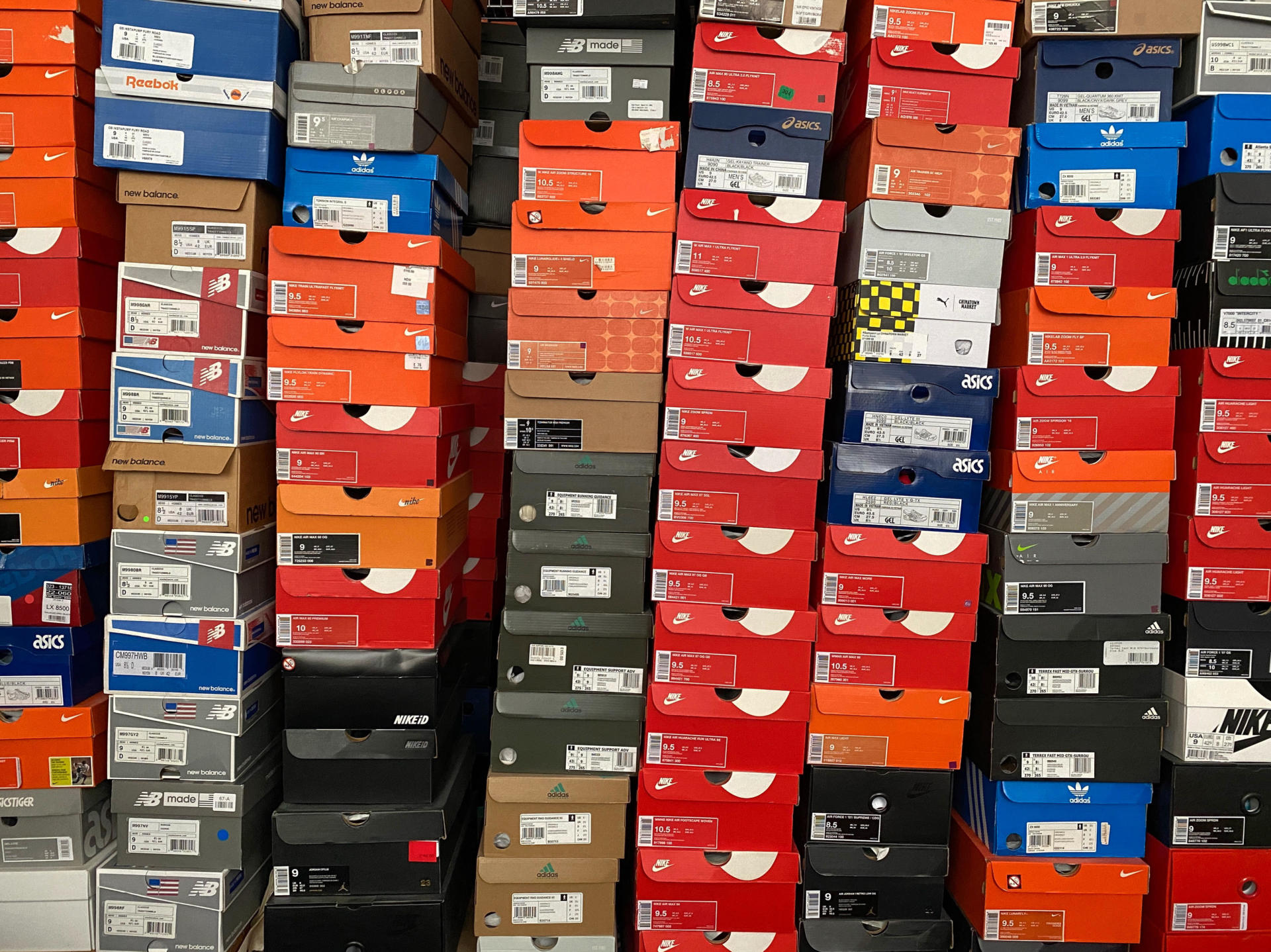 And you never tried to sell them, right? Were you just archiving?
Yeah, I just generally try to archive everything possible, which is why when I'm working with you guys, I'm like I've got to get this release cause if I miss it, it causes a problem, so you guys are helping the archives!
You mentioned that you were inspired by sports and street culture. Do your items fit into a particular style, and if so, how would you describe it?
The way I dress? I just channel hip hop. That's what I think. I think for me style-wise, my favorite era is the 90's. But what do we have right now? This is the best era; right now is the best era for style. Because you've got so many different looks, now it's super inclusive, and everyone can be whatever. And it can be cool, which is essential. But when it comes to what style I appeal to, the 90's, but I put it on to a contemporary manner. And it's kind of funny because the '90s are coming back now.
I'm personally not sure if I can consider today the best era because I think it's really repetitive and just a little bit upgraded, so we've already seen it.
Yeah…
I know all these exclusive shoes can be pretty expensive. I'm curious if you ever sacrificed something significant for you just because you really wanted the shoes?
One time in New York, I was walking around, I think it was in about 1999, and I saw this color of Air Max 95's that I hadn't seen anywhere. They had a black midsole with a volt bubble, and then a fade went up the shoe, from black to dark grey to light grey to white and then a volt top. You could see them from a mile away, and I was like, "Whoa, what are those Air Max 95's?!"
I couldn't find them in any of the shops in Manhattan, and I was well confused. I went to Athlete's Foot, I went to FootLocker, I went to Champs and all the stores and I couldn't find them. I had to stop two girls on the street, the first and only time I've done that, and I was like, "Yo, those shoes are hard, where can I get them? Because I've looked everywhere…". And they were like, "Oh, you're from England, oh my God, your accent's so cute, la la la…" and all this kind of stuff. And then they said they got them from Footaction. I knew Footaction as a store from when I went to Houston to see my family, but I hadn't seen a Footaction in Manhattan. I had to go to a payphone, and I had to dial 411, which is the information service. So I go, "I'm looking for Footaction." and they told me there were two, but not in Manhattan.
There was one in Brooklyn, in King's Plaza, and the other one was in Staten Island. So I was like, "Yo, I've got to go to the home of the Wu-tang Clan, I'm gonna go to Staten Island." I travelled down to the south of the island and jumped on the ferry all the way to Staten Island. I ended up going into the mall after about a 2-hour journey. I look at the mall's plan, and I find out where the Footaction is and run towards it, go in, and there's a pair on display.
I go to the assistant, "Yeah, I need these in a US9" and they go, "No, this is the last pair, an US 8.5", so I try them on anyway just to see, and they fit! They must've run big! So it was the last pair in the store, and they were my size! So I got 'em. And when I walked back to New York, I was staying with my boy Dan Jebbia, his brother owns Supreme so Dan's been into kicks, and Dan was like, "Oh my God, I want those!" And all the guys in the Stüssy store where Dan worked, cause his brother owned the Stüssy store as well, they were bugging out. I was walking around New York in a pair of shoes that had people in New York bugging out.
And then when I came back to the UK, it was a whole other thing, people were bugging, cause that's still one of the best colors the Air Max 95's have come out in. They're going to be super unwearable now, they're in a box somewhere, but they're one of the dopest colors ever, seriously.
That's a long trip to get a pair of sneakers!
Yeah, well, I was the only one in the UK with them. No one in the UK had them. Probably no one in Europe had them! Cause I've talked to other people about them, and they didn't have a clue. So if I pull these out, everyone's gonna be like, "Whoa!" But if I do find them, I'm gonna get a midsole swap on them, absolutely.
With social media, it's pretty easy to present yourself and show the world what you're doing and send your message. But back then, how did you explain what you were doing?
Back in the day, I was working in record shops, and people would come to see what you were wearing, or when you were hanging out at the club, or when you were in the pub, or when you were walking the streets. That's how it would be, you know? That was the advertising, basically.
And after that, it was the advent of forums on the internet. You had Niketalk, which I think still goes on, and then you had Crooked Tongues, and people from all over the world gravitated towards those and would talk to each other, discuss, and have fun. Everyone would swap stories and say, "I'm wearing this," and people would see what everyone's wearing by putting up photos. I think Crooked Tongues started doing "What are you wearing today?", and it'd be a thread on the website with everyone putting their fit shot up, but no one put their outfit up. It was all about the shoes.
And then you had the advent of Facebook, which changed things a little bit, and then Twitter, but what really changed things was Instagram. Because it was all about the visual. Now obviously, there's TikTok for video content, but Instagram was the one, really.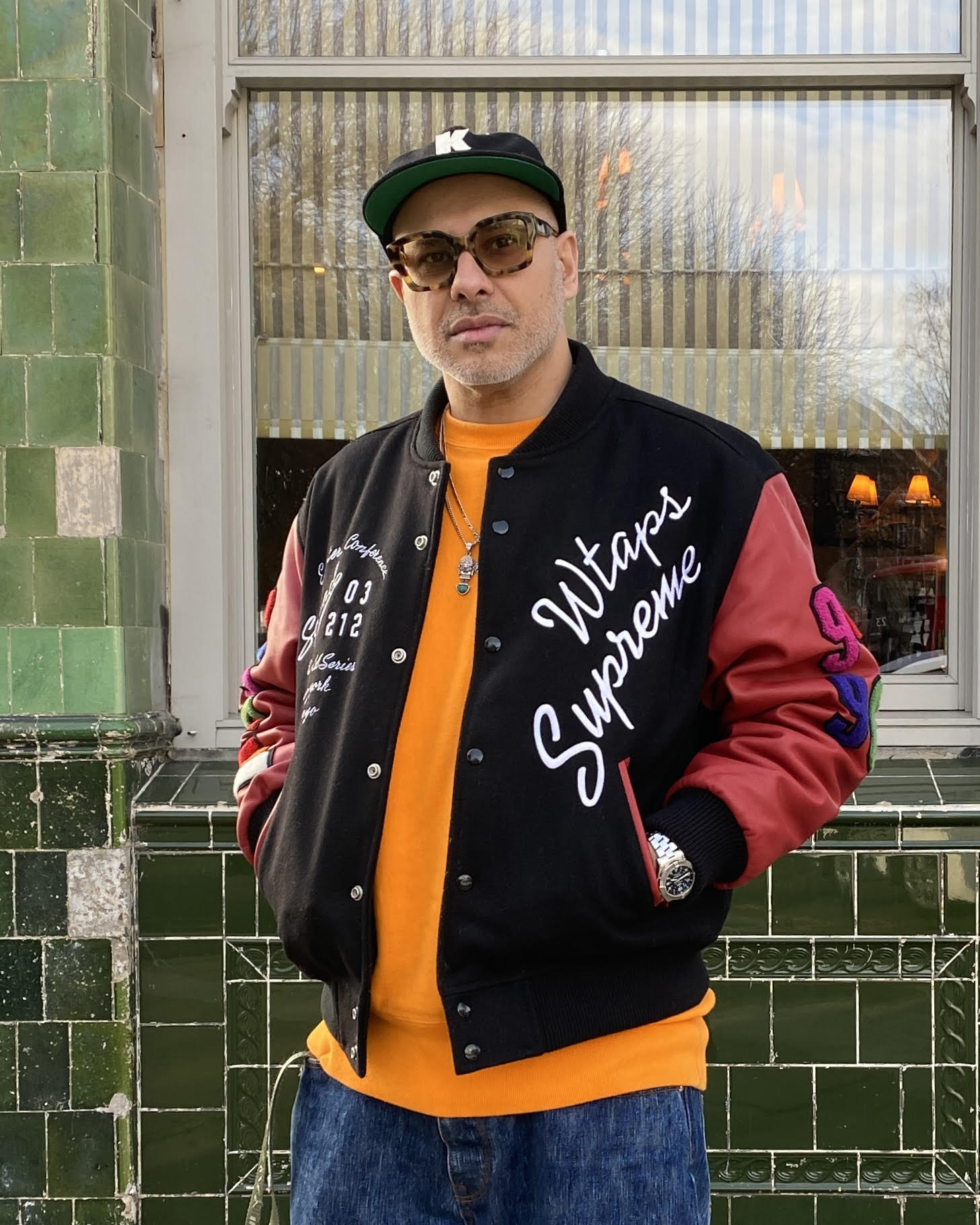 A tricky question – since you have a huge archive – can you highlight three favorite sneakers of yours?
For me, the best shoe of all time is the Bred Jordan IV, which is a newer term, really, but we used to call them black Jordan IV's, the black, grey, red, white ones. For me, that is the ultimate shoe. I was the first person to have a pair of those in the UK when they dropped in 1989 as a young kid and. I was just walking around, and that's how I met a lot of my friends. I was walking around London, around all the record stores, hunted for records, comic shops, hunted for comics, go to all the stores trying to get new clothes and all these other spots. People would be bugging out, what the hell I had on my feet, because they hadn't come out yet over here, Europe got them about three or four months later.
Then the Black Elephant print, people call it Black Cement III, it's not the Cement print, that started on the Jordan IV, it has grey speckles and looks like cement, it's Black Elephant, the Black Elephant Jordan III's the number two shoe of all time.
And the third pair, man, the thing is, I've just created my own pair of sneakers with KangaROOS…
Don't tell me about the KangaROOS yet. We'll get to that!
OK, so the third shoe. There's been so many good shoes over the years, the Air Max 1's, Air Max 3's, or 90's as everyone calls them, Huaraches, ZX 8000's, New Balance 1500's and 577's, Puma Suedes, I mean, Converse All Stars. I love adidas Forums, adidas Rivalries I think are phenomenal. It's really hard to sort of pin down… It's constantly shifting, and there's new shoes coming out, the ACG Mountain Fly, for example, is a phenomenal shoe. It really does give me feelings in comparison to when I saw the ACG's that dropped in the early 90's, like the Utahs and the Mowabbs, so there's so much, and I'm surrounded by a lot of shoes here, I really can't.
You can go off on collabs coming to the mix – how do you put that into play as well, it's pretty tough to decide. There've been some pretty fantastic shoes over the years, Prestos, NMDs, the Yeezys as well. I prefer the Nike Yeezys, some of the adidas Yeezys are kind of bugged out, but I think we're in very exciting times! So I'll give you my top two, I hope that's okay. Because those have a meaning to me that resonates more than what the shoe is. It's the memories associated with the shoe, memories and shoes are the key thing. It's what you do with the shoes, how you got them, what you were doing when you were wearing them, or what was going on in the world at the time. That's the important thing, it's the story surrounding the shoes.
You're an established sneaker archivist, but how did you get to the point of creating your own shoes?
So KangaROOS, it's not the first time I've done a sneaker collab, my first sneaker collab was with Puma, as part of the Shadow Society. So we weren't referenced by name, but we were a collective of people who designed six different versions of the Puma Suede, which we dubbed the Puma States, because that's how the shoe was called when we were growing up in the UK. They were branded as Puma States because they came from the US. So I did my own pair, a red suede Gore-tex pair with a solid gum sole. Puma hadn't used Gore-tex before, not on a lifestyle shoe anyway. I basically wanted a Puma Suede that I could wear in the winter, that's why I wanted Gore-tex. They were like, I don't know if we can do this. I was like, "Well, let's see," and they managed to get it done, so yeah, that was the first one I designed.
Then KangaROOS approached me at the end of last year. They were like, "We want you to be a part of this ROOS United project, and it's all about unity at a time of division," with all the Brexit there and everything, it was like, "We still look at the UK as part of Europe," and I was like, "I still feel European."
Originally, they wanted me to partner up with Kwills, which was cool because I love Kwills. But I was like, "I think I want to partner up with a girl, cause we've got to talk about girls in this whole thing, it can't just be a very masculine affair." So I suggested I do it with Sneakerqueen, my home girl Julia, and I think it kind of worked out quite nicely. So me and Julia kind of discussed which model we were gonna use, and then I came up with the concept of leaves, the colors of leaves when they transition in Autumn, from green all the way to super brown.
The whole cycle of life is represented by that, and the colors are just phenomenal. So we tried to see if we could represent that on a shoe, and represent the whole concept of being one with nature. And then Julia was like, "Yo, we should get some seeds." So we got a packet of seeds, not everyone knows this, but there's a packet of seeds in the spare lace bag which people can plant. So bees get a food source, because bees are dying out, and it's very critical to humanity that the bees do not die out or we are in trouble.
So we took the Ultimate 01 silhouette, and we just went crazy with the premium materials. We took the colors from the cherry maple trees, and I think that's what's on the box as well, the cherry maple leaf. It's a project that I'm so honored to be part of, because it's not just your average sneaker collab where you just throw a logo or a color on it. This is a deeper thing; it's about how we are affecting our environment and what we're doing to protect it. And people say, "Oh, you didn't use ethical materials," but we wanted to use premium materials cause we wanted it to be like that.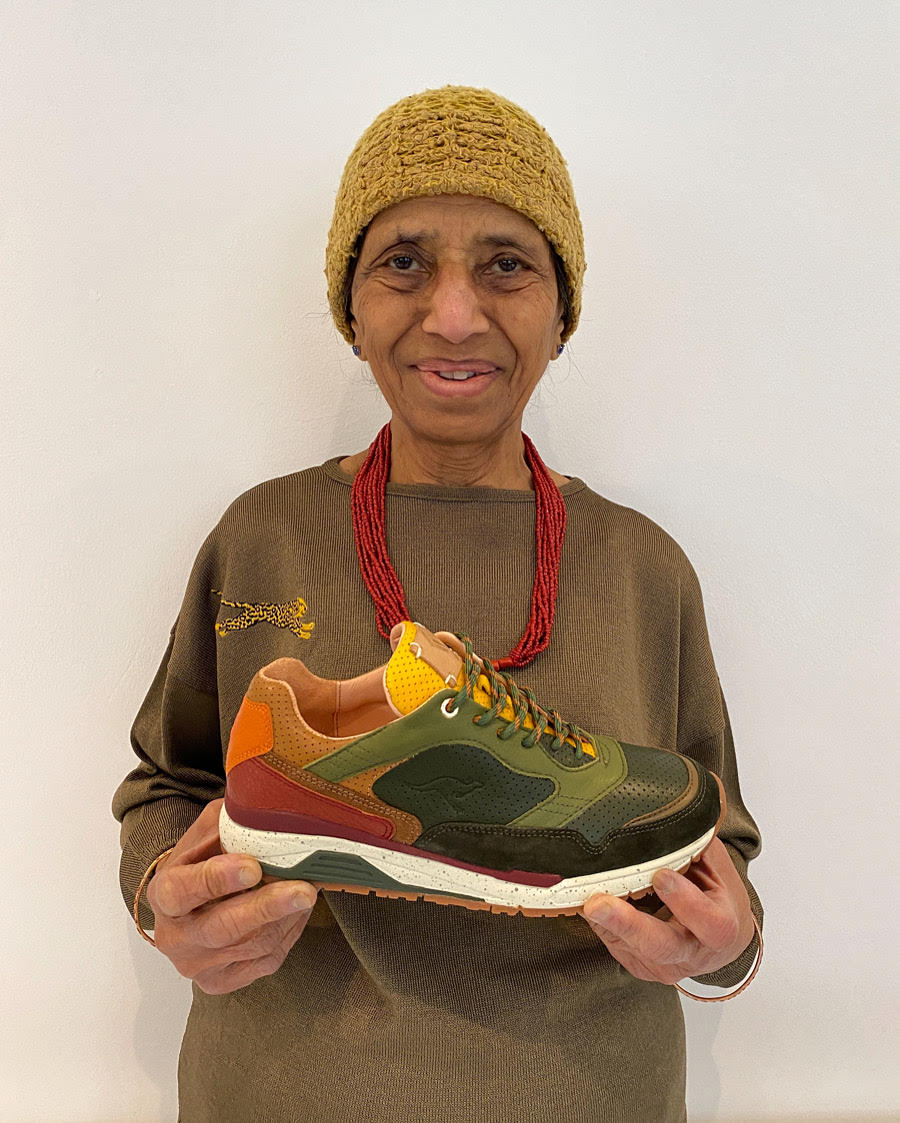 I'm always having arguments about materials, because a lot of people don't understand that natural 100% leather, cotton and organic materials in general are great, because they can decompose. People say "You need to use ethical materials". Come on, Polyester? It's basically plastic in textile form, which will never decompose.
Exactly. And it's the same thing with vegan leathers, how they're produced and what they're made of and the impact of their production on the environment. Obviously, leather is a byproduct of the meat industry, although it's true we're intensely overfarming.
For me, my view on veganism is: OK, don't eat animals, it's bad. But then what is there to keep everything in check? All of us keep everything in check, so if no one is eating any animals, how will their population growth be managed? Otherwise everything's going to get out of control. There will eventually be a natural harmony within nature, but we're the apex predator. There's too many of us, that's for sure. It's a funny thing to get into, so let's avoid that for now.
For me, with this shoe, it's about representation and discussion about nature and our role in it, which should be as custodians not destroyers. We should be working actively in harmony with nature. That's what we wanted to represent with this shoe.
It's very limited in quantity, isn't it?
There were only 400 pairs, of which only 380 were available for sale because Julia and I each got 10 pairs. I gave a pair to my mum and dad, which was really cool. Do you like the shoe, by the way?
Yes, I like the shape. I usually like very neutral colors – beige or grey, so it's a bit too bright for me, but I do like them. They're cool and elegant, and the material is excellent. Were you involved in the technical part of the creation?
Yeah, we went through all the swatches. Julia and I chose all the suedes, the leathers, the colors… We picked everything, from the laces and the sole to the speckle. Every aspect of that shoe. Julia created a logo specifically for her and me, which is on the back of the shoe, the box and the insole. Every shoe has a pocket. Originally, the seeds were meant to go in the pocket, but since the packet was too big, we put it in the lace bag. Every aspect of that shoe is us.
How long were you working on it?
For months. I'd say covid impacted it and slowed production down as well. We started last November or December, and the KangaROOS United "Cherry Maple" (KISH KASH X SNEAKERQUEEN) came out on October 23rd. That's not bad. It was a pretty rapid process, actually. I can't really complain.
What was the most exciting part of the process, and what was the hardest? Did you have any moment when you were questioning yourself?
No, we were very determined. That was important to us. There were certain things we wanted to do, but couldn't because of minimums. We wanted to have 3M on it, but we wanted a colored 3M. Unfortunately, KangaROOS couldn't source it. It's a shame, but it is what it is. We wanted a see-through gum sole, which they also couldn't do. It's challenging. You have to compromise.
Julia and I are super proud of what came out. The reception we've received from everybody is overwhelming. Everybody's been super cool and supportive, showing their love. That's really cool.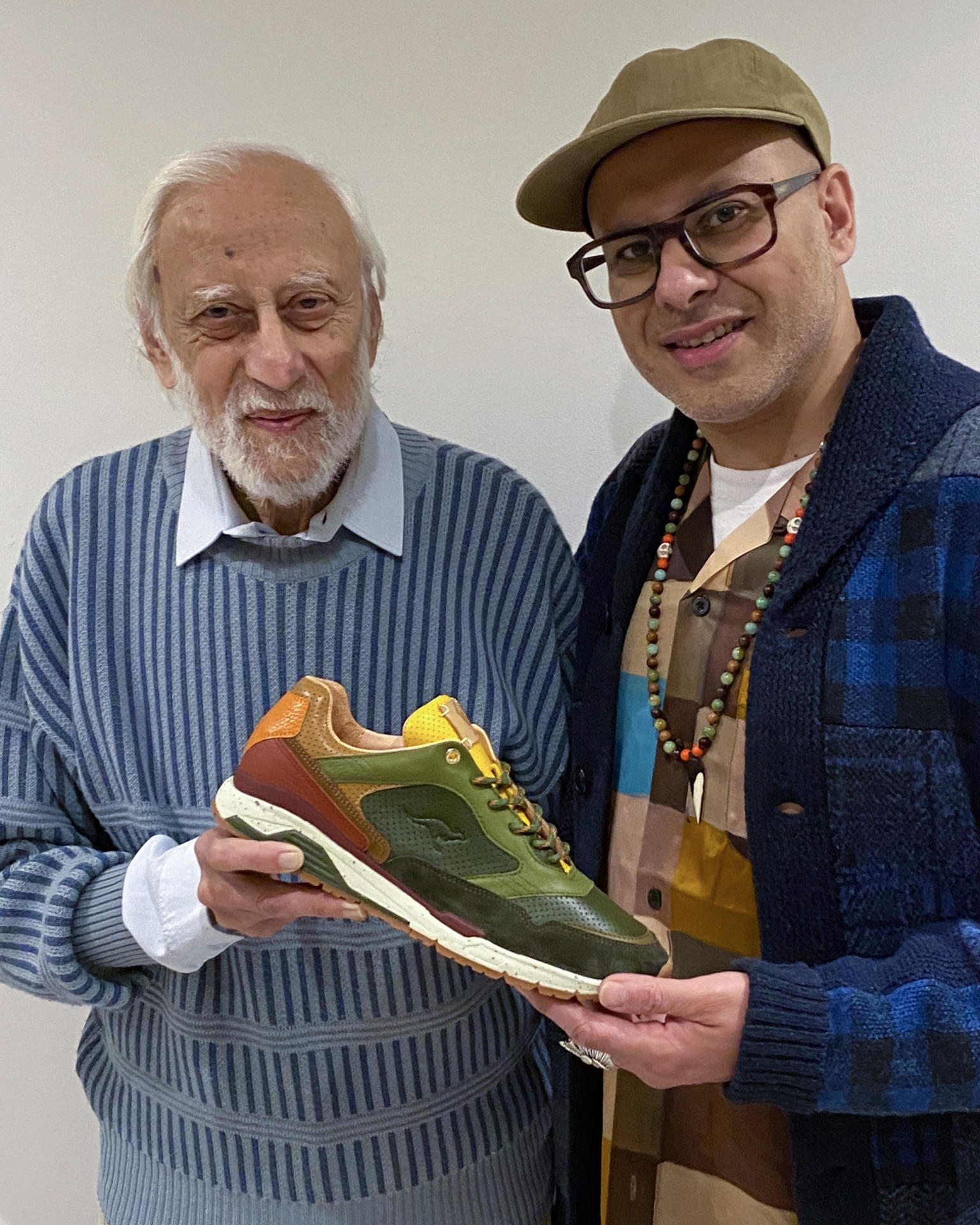 From what I understand, you're very interested in the meaning of what you do. You're not just buying shoes because you want them. You have something you stand for. If it's okay, I'd like a little personal story from you. If I'm not mistaken, you mentioned that your family was a bit skeptical of what you do before the release.
Basically, my parents were pharmacists before they retired. They never really understood what I was into. They wanted me to be a doctor or a dentist, or a lawyer. Typical Indian aspirations. I was never feeling that. I was always more into creative stuff. I loved painting and drawing, which I haven't done in years. It was what I wanted to do. I could never leave hip-hop alone; my love was music. Eventually, I got a job at a record store, and my career progressed that way. They never understood it. They thought nothing was going to come of it. I was one of the few Indian people in the hip-hop scene in this country. There were literally a handful of us.
For them to now see that I've got to this level, and for me to be able to present my dad with a pair of shoes that I designed, and for him to love them, despite him being a very picky guy, just means so much to me. My mom was super proud as well so I had to get her a pair too. But my dad got his first, because it was his birthday. It means the world to me that they appreciate and love them. I'm overwhelmed with that.